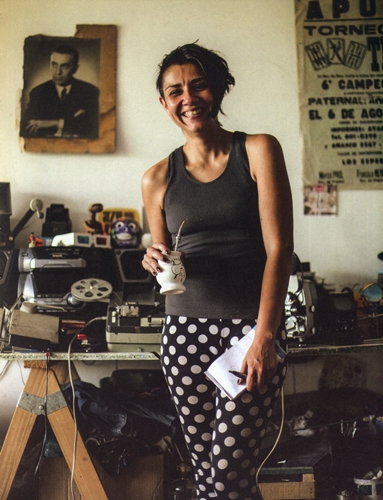 Born and raised in Mexico City, 1977. I Live and work in Buenos Aires.
I attended the Multimedia Arts Degree at the National Arts University in Argentina, the Abigail Child Found Footage workshop and Claudio Caldini's experimental film workshop.
My work is related to experimental films, installations and video.
I carry out and program the itinerant screening room for films called CINEMA CINICO. I'm also on charge of the mythical laboratory of the film resistance in Latinamerica: Arcoiris Super 8. I am currently working on the enhancement of the film collection of the Mexican Embassy in Argentina.
Since 2012 I work with Carolina Andreetti in our project TAPP, a workshop dedicated to the construction of analog projectors with discarded materials or easily accessible for audiovisual ensambles.
Received in 2009 the Third Prize of Arts and New Technologies from the Museum of Modern Art in Buenos Aires and Telefonica, in 2015 the exchange scholarship of the University of Sao Paulo / UNA and in 2016 a mention in the National Hall of Arts in Argentina.
My films have been screened at the Mar del Plata International Film Festival, BAFICI, Kurzfilmtage in Oberhausen Germany, VIDEOEX in Zurich, Curta8 in Curitiba Brazil, PAF animation festival in Olomuc, Czech Republic, MEXPARIS MENTAL in France, the International Experimental Film Festival of Moscow MIEFF, the Week of the Experimental Film of La Plata - Argentina, UNCIPAR, among others.